Rina Jean Bindi
RJ is a professional, full-time variety entertainer who has been bringing her creative light and passion for entertainment to countless parties and events since 2010. She loves connecting with both children and adults. Rina Jean's approach with people and her ability to bring positive energy with her everywhere is what truly draws in the audiences she captivates.
RJ trained with the top variety entertainment educator in Southern California (LOONEY DOONEY). She uses Dooney's Ultimate Airbrush Face Painting system and performs as a game master, face painter, princess, and super skilled balloon twister. RJ also has extensive experience in just about every kind of party setting, enabling her to guide clients to create the ideal event for any occasion.
Her best skill? She understands that "fun" is her main function, and she will use all of her talents to make sure that your children (and their parents) have a great time at your special event.
RJ has a passion to help others and entertain and she loves sharing time with people. She also works with very talented local artists, with a strong desire to support other local entertainers in Loveland, Fort Collins and Denver. She recently moved to beautiful Loveland, Colorado from San Diego, California to be with family and continue her college education, and is married to the amazing Joe Nock (aka Spyder Man).
To learn more about all the ways that RJ or her "amazing entertainers" can transform your next event into a unforgettably fun adventure, visit our services page for more details.
"We look forward to bringing the fun for every child at each event. It's their happiness that matters most. There are no real rules or ways to do thing right or wrong when people come together and celebrate their love for another person." -RJ.
Extras
The additional staff will make your party an event that all of your guests will remember in the future. If you are organizing a teen party, you should contact our company because we offer outstanding henna art. This type of body painting is very beautiful, and girls love it.
RJ's Amazing Entertainment provides services for weddings, corporate events, birthday parties, and any other occasions in the greater Loveland CO area.
Meet RJ's Amazing Entertainment Staff
Hannah
Hi! My name is Hannah. I was born and raised in San Diego, California. I lived there for the first eleven  years of my life, then, much to my chagrin, my parents moved me to the snowy, cold land of Colorado. Now, I couldn't be happier to call Colorado my home. I absolutely love snowboarding! Video games are awesome; some of my favorites are the Legend of Zelda, Harvest Moon, Pokemon, and Minecraft.
My favorite movie of all time is Tangled. I think Rapunzel is so cute and nice. I even did a speech in my public speaking class about how I think Rapunzel would be the perfect animated character to describe me: spunky and enthusiastic!
Like Rapunzel, I didn't discover I was a princess until I was in my late teens, when I started working with RJ. Now it's my favorite thing to do! I absolutely love seeing the look on all the little princesses' and princes' faces when they first see me dressed as the Ice Princess or the Mermaid Princess. It fills my whole heart with happiness and it's my favorite part of my job. It doesn't matter if I'm at a princess party, or face painting, or playing games, I love to see that kids are enjoying themselves and I can be apart of it. But if I had to choose, my favorite part of my job is being a princess!
Fun Fact: My favorite ice cream is this flavor I've only had one time. It was a lavender-honey flavored ice cream that I got from a specialty ice cream store in Crested Butte, Colorado

.
Shayla
Hello! Born in Denver but growing up in Fort Collins, I have come to love this amazing place! I love baking, taking my daughter to the park and enjoy having a great time at live music events. I can't choose between Amélie  or The Lion King as my favorite movie.
To me face painting isn't just a job or a fun thing to do at parties. Face painting can inspire children to use their imagination in the form of art while I can be the tool to help them express themselves. I love doing this and my favorite part of this incredible job is watching a child's face light up when I let them take a look at their now transformed reflection.
I love birthdays and making someone's special day really memorable. Also, I've never met a birthday cake I didn't like! When I'm face painting at a festival and there's a little down time, I sometimes use my paints to doodle portraits of people walking by. It's a little joke I have with myself that it's a different kind of face painting.
Fun Fact: My favorite ice cream is whichever has the most fudge possible, so Denali moose tracks is one of the best.
EJ
Hi, my name is Edward James but I go by EJ! I was born in Wyoming and came to Colorado when I was about three years old. I love doing karate and parkour to stay active. I've been in karate for eleven years and doing parkour for two years.
My favorite part about being an entertainer is getting to work in a fun environment where children are able to have a blast! I love when kids get to see all the characters at their parties because they get really excited. My favorite kinds of parties are superhero themed parties, mostly because I get to come as my favorite superhero of all times, SpiderMan! I love them because they really show that children are excited about great movies and fun characters.
Fun Fact: My favorite movie is The Man from Nowhere. 
Leah
Hi everyone! I grew up in Troy, New York and came all this way to settle down in Fort Collins, Colorado. Some of my favorite hobbies include singing, sewing, painting and dancing whenever I get an excuse to!
I love to entertain at festivals and parties because when everyone gathers to celebrate, I know special memories are being made. The great part about being a face painter is the gasp that follows after the guest sees themselves for the first time. I appreciate painting at town festivals the most, because I love to listen to the live music and to see the beautiful work of our neighborhood artists.
In undergrad I studied art education because art and meaningful interactions with the community are my two favorite things. When I'm not with RJ's Amazing Entertainment, I'm singing with The Project, or teaching preschool. I love my work because it provides opportunities to make those meaningful interactions while creatively collaborating with the community.
Fun Fact:  I love any ice cream, especially when it's covered in hot fudge. It's fun to mix my own ice cream at Cold Stone.
Hunter
Hello! I am from right here in Loveland, Colorado. When I'm not entertaining at children's parties, I love to play Frisbee golf with friends. I love action and superheroes so some of my favorite movies include the Avengers and basically any Marvel movie that has to do with someone saving the world!
My favorite parties are smaller birthday parties because I get to know some of the kids more personally and make sure they are having the best birthday possible! I love twisting balloons and giving children their favorite animal, a sword or a princess hat!
Fun Fact: Something cool about me is that my name is Charles and my nickname is Chuck! That's me!
Kate
Hey I'm Kate! While originally from Wyoming, I call Fort Collins home. In my spare time, I teach yoga and I actually live on a micro-farm, so I never have to go grocery shopping! My favorite things to do are to work in the garden, read, paint, and DANCE. I love dancing and playing music and have always been artistic and musical. 
I feel like face painting found me, I didn't find face painting. It is the perfect job for me where I can help children express themselves. I love that I get to go places where people are having a blast! I also really like working with children and making kids happy. My favorite part of my job is experimenting with my artistic abilities and pushing myself to do better. I love birthday parties because the birthday boy or girl gets to have as many paintings/tattoos as they want!
Fun Fact: 
My favorite ice cream has to be the ginger flavor my housemate makes from fresh, local ingredients every summer.
Maggie
I was born in Colorado and raised in Montrose for most of my childhood but I have lived everywhere from the Pacific to the Atlantic! I have several hobbies but my favorite things to do are anything artistic like facepainting, henna, knitting, or painting and I love cooking. In my house, we root for the Broncos! We love football and especially the snacks that come along with watching a football game.
I love love love hanging out with my three monkeys and going on adventures all over Colorado! We enjoy a good movie night now and then too! In the fall, I really love watching the movie Practical Magic!
Being an entertainer is a blast! I love getting to meet new people. My favorite part about this job is seeing my client's face after we have finished a design. I LOVE Halloween! So I would have to say my favorite parties are Halloween parties, but who can really pick a favorite when it comes to parties period?!
Fun Fact: 
With all my quirks my most unique quality is that I can fold my tongue into a flower, pretty cool, right?!
Domenic
Hey guys! I am from Fort Collins and I love exploring all the fun things there are to do around here. Things I love to do in my free time are parkour, freerunning and tricking! I love getting up and getting active so parkour is something I really love spending time doing. I am also a coach at APEX Movement.
I really like being an entertainer for RJ's Amazing Entertainment because I love inspiring people and getting them to smile! As a superhero character, I can show children that they can be whoever they want to be and that is a great feeling!
Fun Fact: My favorite team is Invincible Tricking!
Marissa
Hello all! I am from Rhode Island but I came all the way out here to follow my dreams! When I am making art or playing with kids, I am always happy and so excited! I am a wizard in the kitchen and love to make tasty treats. I really enjoy making clothing too. I just started fire dancing this year and it's my new favorite adrenaline rush!
The best part about being an entertainer is all of the high fives and hugs I get from super stoked kids! Having a job to make people's day, make artwork and hang out with happy families is the best job I could ever ask for.
Fun Fact: I also teach a dance class in Fort Collins at Club Tico!
Zoe
Hi! I'm Zoe from Pagosa Springs, Colorado. My favorite things to do include playing music and writing songs. I also enjoy camping, traveling, swimming, and dancing! Something unique about me is that I am happiest whenever I'm in the water, so that obviously means I was a mermaid in a past life.My all-time favorite movie is School of Rock.
The best part about being an entertainer is getting to mix work with fun all of the time, I also get to work with children every day (who are basically the coolest people ever). My favorite types of parties are costume parties because you get to dress up and put on a different persona!
Fun Fact: My favorite ice cream is totally Birthday Cake Remix from Cold Stone.
Steve
Hello, I'm Steve! I was born in the small town of what is now Commerce City. I used to train people in survival in the Rockies so I enjoy hiking, backpacking, climbing and any outdoor activity. I am a Star Trek and Star Wars fan so SciFi is my favorite genre.
Balloon twisting is my favorite hobby but I still love to play competitive softball and volleyball. I love working with children twisting balloons, it's so much fun. Making people smile and laugh is a great trait, and helping people love and enjoy themselves is satisfying. Birthday parties are the best but my family really gets into Halloween. Most of my family makes their own costumes. So working for RJ's Amazing Entertainment I get to see what great costume ideas guests come up with during Halloween parties.
Fun Fact: I've sung in many different singing groups, including men's quartets and church choirs.
Megan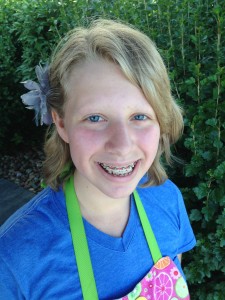 Hey I'm Megan! I am an entertainer and cosplayer! I love being outdoors and having a great time with family and friends.
My favorite things to do are airbrushing and face painting! I love twisting balloons for children's parties too. I really like playing with the children and talking with them. Kids are so cute and playful; its cool getting to be creative with them and making awesome stuff together.
Matt
I'm Matt! I have been a featured artist at various art festivals like Arise music festival and also display my art, for sale in local shops around Loveland. I have been face painting for a while and love being around kids and seeing what awesome creations they can come up with too.
Becky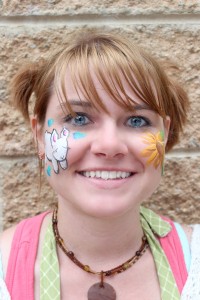 Hello, I'm Becky! I really love to paint and do caricature art! My favorite thing is seeing the looks on people's faces when they see what their caricature self looks like.
I love to doodle anime and enjoy creating detailed art for people to take home and cherish. When a child sees themselves in the mirror for the first time, it's like watching magic come alive right in front of their eyes!

Coco 
Hey I'm Coco! I have been a hula hoop performer for over 6 years and love every minute of it. I got my start by hula hooping on stage during live music shows. I also served as part of the marketing team for Hewlett Packard and Wriggly Gum, taking my hula hooping skills all the way to India for a 2 ½ month tour. Now I am in Northern Colorado getting to showcase my love for hula hooping at RJ's Amazing Entertainment!
If you want more information on any of RJ's Amazing Entertainers,
please let us know
! We would love to hear from you, especially if you have a favorite entertainer.