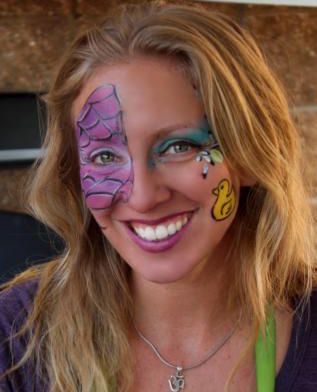 Rina Jean Bindi – Professional Children's Entertainer

Rina Jean Bindi is a Loveland, CO Professional Children's Entertainer
RJ is a professional, full-time variety entertainer who has been bringing her creative light and passion for entertainment to countless parties and events since 2009. She loves connecting with both children and adults. Rina Jean's approach with people and her ability to bring positive energy with her everywhere is what truly draws in the audiences she captivates.
RJ trained with the top variety entertainment educator in Southern California (LOONEY DOONEY). She uses Dooney's Ultimate Airbrush Face Painting system and performs as a game master, face painter, princess, henna artist, airbrush artist, and super skilled balloon twister. RJ also has extensive experience in just about every kind of party setting, enabling her to guide clients to create the ideal event for any occasion.
Getting Started in Children's Entertainment
Although RJ's passion is spending time with and entertaining kids, she actually started out with a degree in facilities operations and plant engineering. It was interesting working in a job in a heavily saturated, male-dominant field, and the work required a lot of hands-on time getting dirty, but not a lot time with people. The longer she stayed on this career path, the clearer it became that she was at a crossroads – start her own company, or find work doing something else. Her passion for connecting with people and entertaining won out.
RJ started RJ's Amazing Entertainment when she moved to Loveland, Colorado in October of 2012. She was new in town and only knew her retired mother and father. She started sharing her skills by spending time in local parks painting for tips. This helped her practice face painting and spread the word about her skills. In colder weather, Learning Express Toys in Fort Collins allowed RJ to sit in their shop and airbrush for tips.
Two years later, RJ's Amazing Entertainment is busier than ever! She feels extremely fortunate to be so successful in the Northern Colorado community as well as surrounding areas. She is also married to the amazing Joe Nock (sometimes appearing as SpyderMan) who she met here, in Loveland Colorado.
RJ's Passion is Fun and Connection
One of RJ's best skills is that she understands "fun" is her main objective, and she uses all of her talents to make sure that your children (and their parents) have a great time at your special event.
She has a passion to help others and entertain and loves sharing time with people. She also works with very talented local artists, to fulfill her strong desire to support other local entertainers in Loveland, Fort Collins, Windsor, Greeley, and even Denver.
To learn more about all the ways that RJ or her "amazing entertainers" can transform your next event into a unforgettably fun adventure, visit our entertainment page for more details.
"We look forward to bringing the fun for every child at each event. It's their happiness that matters most. There are no real rules or ways to do thing right or wrong when people come together and celebrate their love for another person." -RJ.