Best kid's birthday party themes
Best kid's birthday party themes
Kid's birthday parties are a ton of work! But it will all be worth it after you choose the perfect theme for your child's special day. Themed parties are always a hit! Go beyond the generic "Happy Birthday" sign and pin the tail on the donkey party game. Kid's birthday party themes can be easy and a lot of fun to plan! If you find that your child would answer "yes!" to any of these questions, a themed birthday party is right for you.
Do you love elegant dresses, catchy tunes, and happily ever after?
Of course, a princess party! The towering princess castle built entirely of frosting, cake, and ice cream cones, the Jasmine dress my sister wore, and the pink wand that was permanently attached to my hand, are some of the best memories I have of my sixth birthday party. Many little girls dream of being a princess and there is only one time a year she can rule over all her loyal subjects while looking her best in an abundance of glitter, bright colors, and a huge smile across her face- her birthday party.
Keeping with our princess theme, there are plenty of fun food and decor items to choose from. Find all types of princess party plates and napkins, as well as tiaras for the guests! A tasty birthday cake is a must but guests could also partake in a tea party fit for royalty during the party. To keep your guest stylish and satisfy their sweet tooth, hang candy necklaces from your jewelry holder (this is a great decor idea too!). The princess party theme has millions of options, just make sure to make the birthday princess the center of attention.
Making a birthday girl's dreams come true can be simple, if you know the right people. RJ's Amazing Entertainment can connect you with the perfect princess for the party! A princess can attend the party and guide kids through activities like singing popular songs, face painting, or entertaining guests with stories and talking about what its like to be a princess. With the Royal Princess Party Tour, a surprise grand entrance, photo ops, nail painting, story time and much more is all included. To learn more about having a very special princess, like the Ice Queen or Mermaid Princess, at your party contact RJ's Amazing Entertainment for booking.
Need an excuse to save the world and show off your muscles?
That's right, we all need a few superheros in our lives. We can't forget about the millions of kids dreaming about the day they save the whole city from the evil goblin. The big, tough guys in this world need to be appreciated too and that's exactly why there are parties in honor of just those tiny superheros with big plans.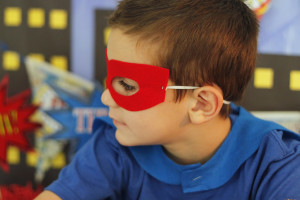 Planning a superhero party doesn't have to be as difficult as saving the world; a few decorations done right and some party games can make all the difference! Create fun movie posters of your favorite superhero movies by printing off signs and pasting onto construction paper. Make your own superhero masks before the party and have the kids decorate them during the party with their favorite crafting supplies and colors. Give guests a chance to get into the theme with superhero stickers and superhero bracelets. Group games are a blast with this theme. Let the kids run around in a superhero obstacle course or have the kids create a superhero identity with a badge and everything! This theme is a blast for the kids and for the planner!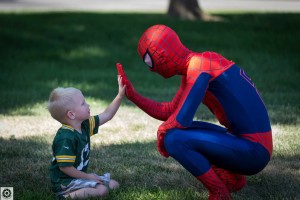 Anyone can be superhero status at party planning with the right connections. RJ's Amazing Entertainment can bring the superhero to you! Spyderman could be at  your next party with all his spydy-expertise. Spyderman can greet guests, have photo ops, show kids how to be a superhero themselves, and play games with the guests! Learn more about Spyderman for your superhero party.
Love to dance, move around, or learn a new skill?
Hula hoop parties are a hit when it comes to active kids who love to dance or who appreciate a great performer. Hula hooping offers kid's parties a great alternative to the run of the mill party themes.
So what exactly does a hula hoop party entail? A party theme like this can easily tie into many different things that children like to do. A hula hoop party can mean a chance to get children involved with gymnastics like jump rope, balance beams, and tumbling. With a theme like that, children will have a great time celebrating the birthday boy or girl's special day while also getting the chance to be active!
A hula hoop themed party can also mean a special time for children to express themselves through dance. Hula hooping is one type of dancing but planning a dance themed party can give children a chance to try out many different ways to express themselves. Whether its hip-hop, square dancing, or anywhere in between, a dance theme will be a great option for active kids who love to preform.
One way you can make a hula hooping party stand out for your guests is having a professional performer visit the party. This performer can inspire kids to try out new activities while connecting with the kids to make sure every guest is having an awesome time. For guests who don't know how to hula-hoop, the performer can walk guests through the process, on the other hand, guests are able to sit back, relax, and watch an exciting performance!
RJ's Amazing Entertainment offers party planners the chance to have a professional hula hoop performer at their party! Coco has been a hula hoop entertainer for over six years and loves to perform as well as teach classes for all ages. If a thrilling show is what you're looking for, Coco can perform with fire and LED hoops to make for an unforgettable party.  You can learn more about Coco or contact RJ's Amazing Entertainment for booking.
So you love to create masterpieces in the kitchen and devour every last bite?
Cooking or baking can be a great activity during a kid's birthday party but that doesn't mean it has to stop there. Let's get our hands dirty with a cookie dough filled, lick the spoon kind of party. Cupcakes, personal pizzas, yogurt-dipped pretzels and more can all be fun things to make with kids of all ages.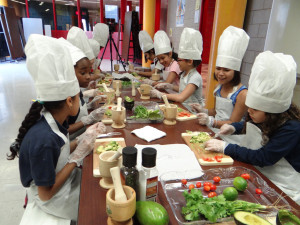 The best thing to keep a bunch of hungry youngsters at bay is to feed and entertain them at the same time! With a kid's cooking party theme, that's exactly what you get. Tell the guests to come prepared to work and maybe with their favorite cookie cutter in tow! Start with decorations. Butcher paper covering tables will make clean up easy and kids can color with crayons while they wait for their masterpiece to finish cooking. Make your own tissue paper chef hat decorations to hang up all over the room. If you have a play kitchen, set that out so the youngsters can play pretend cooks! For non-cooking activities, kids can decorate their very own apron or chef hat with fabric markers, pom-poms, stickers and glitter glue. You could even let the kids personalize their cooking gear a little more with iron-on letters or shapes. Cups, plates, napkins and decorations can also be kept theme-oriented using fun colors found in the birthday boy or girl's favorite dishes.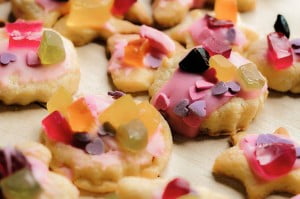 Now on to the real task, finding foods that kids will love to prepare and eat! Picky eaters are always an issue, that's why having a couple easy to prepare dishes will help you out, while also entertaining the little ones. Pizza is usually a crowd favorite so personal pizzas that kids can prepare with a wide range of toppings is a great option. Like deep-dish? This recipe just requires a muffin pan to create personalized deep dish pizzas. While this recipe will show you how to make regular store-bought pizza dough into personalized pizzas that kids can make to their own liking. Pizza dough is fun to play with but sometimes a little too messy! Replace that pizza dough with a half of bagel or French bread and kids can just as easily add toppings to make their pizza favorites.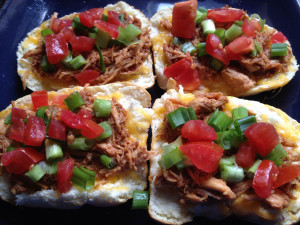 Now that we have conquered the task of a satisfying meal, lets have fun with dessert! The traditional birthday cake will do but with this theme, its easy to incorporate a fun activity while also getting to blow out the candles. A simple sugar cookie recipe can be prepared beforehand or store-bought sugar cookies at your local grocery store will do too and you'll almost be ready for a cookie decorating extravaganza. All you'll need after that are sprinkles, icing, and a few sticky fingers! For more tips on how to make a cookie decorating activity kid friendly, the Decorated Cookie has some great tricks. If you really had your heart set on birthday cake, no problem! Prepare cupcakes before the party and have the kids use frosting and sprinkles to satisfy their sweet tooth and get creative. Surprise the birthday girl or boy with a  giant cupcake so they can blow out the candles and still enjoy the activity with their friends.
Can't get over that favorite toy or movie?
When your child can't set down that favorite toy or constantly asks to play that same DVD over and over again, it's time to treat them to a birthday party entirely themed off that favorite item.
Throwing a party entirely themed off that one item may seem difficult but there are a lot of resources out their to help a party planner out. Legos have been around for 80 years and a kid favorite for just as long. Having a Lego themed birthday party can be fun to plan and a blast for kids to attend.
The birthday boy or girl definitely needs a birthday outfit to show off at their party. A DIY Lego belt is the perfect way to show off their love for the toy. Loved The Lego Movie?  A DIY Lego construction hat can be fun for all the guests to wear. These fun costumes are just the beginning; decorations and party supplies are a must and they have to be entirely Lego themed. One Idaho Mom created an awesome Lego kid's party with a lot of DIY projects like a "Happy Birthday" banner with Lego paper cut out in the shape of Lego men or giant Lego cutouts and many more ideas. Besides having the kids use their imaginations to build their very own Lego creations, it might be a good idea to provide group activities for the kids. From pin the head on the Lego man to Lego bean bag toss, check out these Lego themed party game favorites.
Yes, we have seen Frozen parties of every kind, from the snowflake decorations to that very blue dress but there are other movies out there that would make themed parties just as fun! Those little yellow guys from Minions the movie, a popular spin off from Despicable Me, are everywhere so why not plan a kid's party where your little minions can run around and enjoy a great party.
A great party starts with great costumes and decorations. Find minion costumes for all ages or if you really want to impress your guests, see how this Craftaholic created her own kid's minion costumes. Everything from cups and plates to drink labels can also be minion themed! Keep those minions satisfied and explore tons of great minion snack ideas like cookie robots and bananas made into minions. Watch this video for more amazing ideas on how to create an entirely minion themed party while saving money using DIY projects like silverware holders or minion centerpieces!
Birthday parties are a time to let the birthday boy or girl show how truly loved he or she is. The first step in planning the perfect birthday party is finding a theme that will showcase just how special the birthday kid really is.
Thank you for reading my article about best kid's birthday party themes! Looking forward to creating more articles soon! If you're interested in reading about a certain subject, feel welcome to comment your suggestions!