Venues
RJ's Amazing Entertainment provides a variety of entertainment services to venues in Fort Collins, Loveland, Windsor, Greeley and Northern Colorado as well as your home. The venues listed here are some examples of past parties and the great things we can do to transform the event into something creative and special for every patron.
Kids Birthday Party Entertainment Ideas
Host a Zombie Party!
Zombies are taking over, might as well have a party to celebrate! We can do everything from prosthetics to face painting for a wide range of zombie looks.
Be prepared for anything – from pale face paint with realistic gashes and wounds to gory, blood dripping face paints. RJ's Amazing Entertainment can also do more complex designs that feature ripped out throats, bullet hole wounds and gashes.
All paints are latex free and easy to remove. As for the other zombies at the party, well, we can't protect you from them!
If you want to host a zombie party for Halloween or any other time of year, we can make it look and feel like the real thing! Book a party today.
Restaurants
Want to learn how to turn patrons into loyal customers? Start by finding a way to connect with and entertain the kids! RJ's Amazing Entertainment provides quality family fun options that make eating at your restaurant a blast, and inspires kids to ask their parents to come back to your establishment time and time again!
Children love picking a design for their facepaint or watching the mystery of balloon twisting as they wait for their meals. Their favorite part? Getting something made in their favorite colors especially for them! It makes kids feel like they are getting an extra special treat, and that's great for business.
We engage with kids at the dining table, letting them make choices about design, color and size of their art all while joking around with family members. This helps keep everyone happily entertained as they wait for the food to arrive. Face paint and balloon distractions also result in happier kids and parents, less stress on the servers, and a big increase in tip totals!
Create a One-of-a-Kind Birthday Party in your Home
Special birthday coming up? Let's celebrate at your house! RJ's Amazing Entertainment and her merry band of entertainers will come to your home and provide tons of dynamic entertainment options, including:
– Colorful face painting to make you look like a butterfly, queen, cat – the sky's the limit!
– Balloon twisting to bring your favorite animal to life
– Hair paint to completely change up your look (that's non-toxic and easy to wash out)
– Henna tattoos for a some intricate temporary body art
– A Game Master to set-up and manage tons of traditional party games
– A chance to create a special princess or superhero party
And more!
RJ's Entertainment provides all the materials – you just show us where to set up! We cater to kids and adults of all ages and are excited to help you create a party that's fun for every single person. Need some ideas or suggestions? Call us today to brainstorm ideas for your next birthday party in Northern Colorado.

Weddings
Having an entertainer present at your wedding can put a whole new twist on your event! RJ's Amazing entertainers have a range of skills to help keep children happy, engaged and having fun while the bride stays front and center in the spotlight. A little extra helps also allows parents who are guests partake in all the fun while the kiddos have a great time too. Who knows, some adults might jump into the fun!
You can choose from a range of options, including balloon twisting, face painting and other group games that help keep kids of all ages and personalities entertained for hours.
Bridal Shower
Henna is always fun for the "older crowd" who want to create a little something special and memorable for the day. Temporary henna tattoos add class and an earthy flare to your bridal shower and offer a personalized touch for every guest. The henna stays on the skin for up to two weeks, depending on skin care regimens and are a beautiful, one-of-a-kind to celebrate a milestone event.
Employee Appreciation Celebrations
Show your co-workers you know how to throw a party and want them to have an amazing time! Inviting along some of our awesome face painters, balloon twisters, and a Game Master ups the level of fun in tons of ways. We keep the crowd engaged with colorful entertainment, children happy, and parents smiling. Big or small, we cater to all!
Private Lessons to Learn the Tricks of the Trade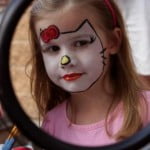 Have you ever wanted to learn how to twist a balloon into a pirate sword? Curious about the delicate nuances of how to paint a full faced tiger, or the tricks to master the sponging technique for a perfectly blended butterfly?
We offer private and group lessons for all ages to learn all our special secrets. RJ's Amazing Entertainment will share it all with you, from simple to advanced face painting and twisting techniques. Call us for pricing and to schedule your lesson today!
Summer Camp
The summer is a great time to be outside, so why not add a little twist on your outdoor fun and invite and entertainer to your summer camp? We are happy to come over and bring along our airbrush face painting kit, games, and balloons to make it a day full of creativity!
RJ's Amazing Entertainers can easily paint 20-40 children within an hour, making sure everyone gets a face paint design they love. Our awesome rapid tattoo cheek art comes in many iconic designs for girls and boys, giving every kid a chance to choose something perfect. Having interactive toylike balloons and games will step up the children's enthusiasm while creating cohesiveness amongst teams and healthy outdoor activity!
Any of these party options and venues sound like they would be a fit for you and your event? Let's get a date on the calendar and
book now.