Hawaiian Island Princess Party
Hawaiian Island Princess Party | Fort Collins, Loveland, Windsor Colorado
Summer is here and the weather is HOT! Somedays it might feel like you are melting an not even a refreshing frozen sweet treat will cool you off. It is time to beat the heat with a Hawaiian island princess party. There are many fun activities, sweet treats and decorations fit for any island princess party available. With the hit movie Moana still fresh in children's minds, there is even more of a reason to have an island princess party. With these fun ideas we found, all you need for a perfect summer party is the sunshine. Create a magical island party for your guests and have a blast at an island princess party!
Hawaiian Island Princess Party Decorations
Create a beautiful island princess party with dazzling decorations that will leave your guests in awe. Decorations are a great addition to any party and they can take your Island Princess party from drab to fab in seconds! It is so easy to make decorations for your party or it is just as easy to buy decorations. Decorate your island princess party as fancy or as simple as you want. Decorations are a fun way to help showcase your theme and guests will love feeling like they have been transported to a tropical island. These are a few possible decoration ideas that will help to bring your island princess party to life!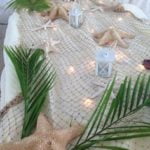 Add some flare to your party tables with this cute table top decoration idea. It is a perfect way to keep the island princess party theme into every part of your party. First, start with a solid white table cloth and then bunch up a brown colored cloth over the white table cloth. Use tissue paper to help form the lumps. Drape a fishing net over the two table clothes. Find a decorative fishing net here. Top off the look with palm leaves and starfish of various sizes. To make the table more magical, add white lights in between the white and brown table cloths.
Hibiscus Flowers
Check out these super cute Hibiscus flowers from Bluet & Clover. These are the cutest and the easiest decorations for an Island Princess Party. The best part about these flowers? To make one, crafters only need tissue paper, a rubber band, scissors and about ten minutes. For full instructions check out Bluet & Clover's website here. Make these flowers in various sizes or colors. Big, small, pink, blue, the sky is the limit on these flowers! These flowers can be made to be strung together in a garland or as a stand alone center piece. No matter where a host choses to place these giant flowers at an Island Princess party, guests will love them!
Hawaiian Island Princess Party Centerpiece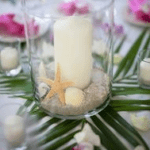 In addition to giant flowers would be this simple and totally cute sand and candle jar. Simply take a glass jar, which can easily be found at a dollar store or thrift shop and fill with sand. Add a candle, a starfish and a few seashells to finish the look. Set onto of a palm leaf and surround with other small decorations. This is a prefect way to add more of an island flare to your island princess party.
Looking to add more color and a tropical feel to the island princess party? Tropical leaves are a great addition to an island princess party. Find tropical leaves here. Another awesome way to add some magic to an island princess party would be to add could be paper lanterns. Paper lanterns come in a variety of colors and sizes and are available at party stores or online.
Create this jaw dropping tiki bar for an island princess party! A Purdy Little House has detailed step by step instructions that will help to make this tiki bar come to life. The directions are simple and the DIY tutorial is quite inexpensive. This tiki bar would be the perfect prop in a photo booth or to serve snacks on. Guests will love this tiki bar!
Hawaiian Island Princess Party Sweet Snacks
An island princess party isn't complete without fun snacks and sweet treats! After all isn't one of the best parts of a party the sugar coated treats? Serve any kind of snacks, candies or meals at an island princess party. Large tropical leaves are a simple and cute way to serve different snacks on a table. These leaves double as serving trays and fit into the island princess party perfectly!
Hawaiian Island Princess Party Fruit Bar
At island princess party, a great snack to provide for guests would have to be fruit! Include all kinds of fruit at this party. Not only is fruit a great snack, it is healthy and can double as cute decorations. Look at this adorable fruit table! For more fun, spray paint plastic fruit to help add a decorative feel to the fruit table. Combine bright tropical fruit with bright flowers for a beautiful eating arrangement. In addition, fruit kabobs are a great snack to serve and guests will go crazy over the easy finger food. Modify fruit kabobs to a single fruit on a popsicle stick. To add an extra bit of excitement to the fruit, cookie cutters can be used to cut island shapes into pieces of fruit. Cookie cutter examples can be found here.
Hawaiian Island Princess Party Pina Colada Drink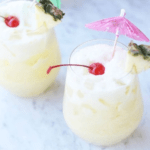 Beat the heat at your party with a cool drink fit for an island princess! It is hard to pass up this Pina Colada punch! Not only does it taste like you are lounging on a beach in Mexico, but it is so easy to make. This drink only calls for three different ingredients. Liz on Call has the full recipe on her website as well as other great recipes. In addition to the great taste, a slice of pineapple on the side and a pink umbrella makes this drink so cute! For a sweeter treat, add a scoop of whip cream on top. It is hard to resit this tasty drink!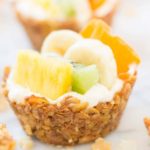 Hawaiian Island Princess Party Fruit Cups
Keeping with the fruit theme, tropical granola cups are a wonderful addition to an island princess party, Strawberry Blonde Kitchen has the full recipe here. These yummy snacks would make a great treat at your party and they also would make great breakfast food for busy days. Fill these granola cups with your favorite yogurt and then top with your favorite fruit. For extra flavor, sprinkle dried coconut over the top. This is one of the snack items that would look adorable served on tropical leaves. Turn this treat into a fun activity and let guests create their own flavor combinations with different flavored yogurts and fruits.
Cut coconut's in half to create adorable coconut bowls! A island princess party wouldn't be complete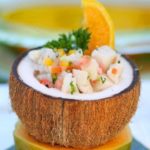 without a bowl made out of a fruit. Fill these bowls with fruit and provide a creamy dressing for guests to make their own fruit salads. Looking for something a little fancier? Try making an acai bowl in the coconut dish. Top with berries and nuts for premium flavor. Not such how to make an acai purêe? Clean eating has some great recipes to try with step by step instructions. Shrimp or other seafood dishes would be great served in these coconut bowls as well.
Hawaiian Island Princess Party Costume
An island princess party wouldn't be as fun without dressing the part! Let your guests feel like they are standing with their toes in the sand and the salty breeze running across their hair with these cute dress up ideas.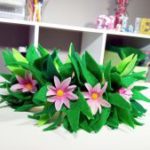 Follow this cute tutorial to make a perfect floral crown for guests to wear during an island princess party. This crown only uses felt and fake flowers so the crown will last many days after the island princess party. Different colored flowers really help to make this flower headband unique! Two different colors of green felt can really help to add depth and dimension to your floral crown. For extra fun take leftover materials and make matching flower bracelets and anklets with hot glue and string.
An island princess party costume wouldn't be the same without a grass skirt. These skirts can be bought easily or handmade as well! Handmade grass skirts are so simple and can be done in about thirty minutes or so. For a great tutorial, check out this website!
Hawaiian Island Princess Party Favors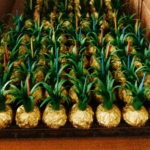 Send you guests home with cute party favors to make sure this isn't a party that they will soon forget! For a simple take home treat, take the golden wrapped Ferroche chocolate candies and toothpick green tinsel to the top. Mimic a pineapple with these cute little chocolate candies! Wrap a few goodies in bright colored tissue paper to make a cute little gift bag for an island princess party! Beat the heat with these fun island princess party ideas! No matter how you chose throw this island princess party, it will be a refreshing break from the summer sun!