Moana Inspired Birthday Party
Moana Inspired Birthday Party | Fort Collins, Loveland, Windsor Colorado
Summer is just around the corner and there is no better way to kick of the warm season than with a Moana inspired birthday party! There are great games to play, crafts to create, treats to eat and cute decorations. Focus this party around the hit Disney movie or your own imagination. A Moana inspired birthday party is a great way to celebrate anyone's birthday at any age.
A Moana Inspired Birthday Party Invitations
Invitations set the theme for a birthday party. Hand cut hibiscus flower invitations are perfect for a Moana inspired birthday party. Moana herself would love the pretty floral design. Any kind of hand cut out flower would work well for an invitation. Esty has a collection of Moana inspired invitations too. Party hosts can customize many of these invitations to fit their own needs.
Moana Inspired Birthday Party Decor
With the invitations out of the way, the next step to a Moana inspired birthday party are the decorations. The decor for this party is so cute! Make your party feel like a luau on a white sandy beach with these ideas.
Large fresh flowers in bright colors will add a natural feeling to the party. They look great and will make your party smell even better. Tropical colors like teal, golden yellows, bright oranges, flirty pinks, ocean blues, and fierce greens are all colors that would make up a great color palette for a Moana inspired birthday party.
Check out this tropical centerpiece from Birds Party. This balloon garland would be a great addition to any table and it is easy to create.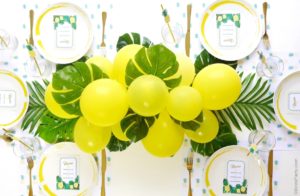 For a centerpiece that is a little more formal, hollow out a pineapple to use as a vase, fill with bright flowers and fresh greenery. Add grass skirts to the bottom of the tables for extra decoration.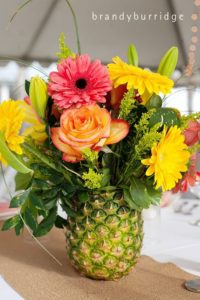 Decozilla has instructions on how to create a flower garland perfect for a Moana inspired birthday party. This garland adds a 3D element to any party.Create a chain by folding construction paper and stabling into a flower a shape. Hang this garland on tables or a wall to create the illusion of a lush background.
Tissue Pouf Pineapples
 Pineapples and islands go hand and hand so why not have them at your party? Frog Prince Paperie have step by step instructions on how to make Tissue Pouf Pineapples that look adorable.
Use yellow tissue paper, hot glue and green construction paper to make these decorations.
Flower walls are so popular right now but are usually expensive. Make your own without breaking the bank. Hang flower leis or flower garland down from the ceiling to create your own flower backdrop. Take pictures in front of the wall or place it behind the snack table.
Make your guests feel like they are on the beach with balloon palm trees! Party City has instructions on how to make your own. With detailed instructions party hosts can make these trees in a short amount of time.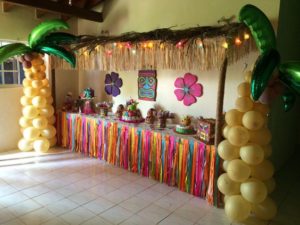 Hire a Princess Entertainer: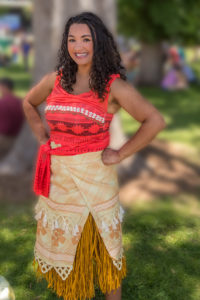 If you are local to the Loveland, Fort Collins, Windsor Colorado area, you have an extra special option to consider for your upcoming Moana inspired Princess Party. Our company has princess entertainers for hire and we just introduced the Hawaiian Princess to our team! To learn more about our princess party packages, please take a look at our princess entertainment page.
Moana Inspired Birthday Party Snacks
No party is complete without fun snacks and sweet treats! Sandwiches are always a crowd pleaser and are quick to make. Sandwiches cut into seashell or starfish shapes makes a simple food fit into the party theme. Use cookie cutters to make the different shapes and place on a platter.
Hawaiian Chicken Kabobs are a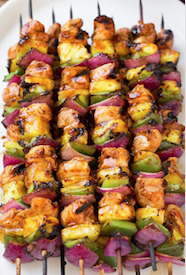 great alternative to sandwiches. The chicken and pineapple chunks are delicious and sure to be a hit! All Recipes has simple instructions and is super fast to throw together. These kabobs are a snacks adults and children will both enjoy.
Fruit kabobs are are a great addition to a Moana inspired birthday party. They add flavor and color to a party. Sticking with the kabob theme, you can even make candy kabobs to serve at a Moana inspired birthday party. If you are having a large group over for a party, Hawaiian haystacks are a great dish that can feed a lot. Chef in Training has a recipe that can easily be doubled or tripled!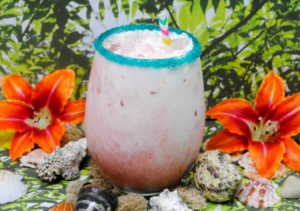 Our Family World has a great recipe for Moana inspired punch! This recipe is tropical and a great sweet treat. Be sure to include tiki umbrellas to make your guests feel like they are lounging on a beach chair. 
Use shell noodles and make macaroni and cheese. Call it Conch Shells and Cheese to really make it fit into the Moana birthday party theme. Moana travels across the ocean and even under the ocean. She meets all sorts of creatures. Have your guests eat sea snails at your Moana inspired birthday party! Sea snails meaning pigs in a blanket.
Moana Inspired Treats
Check out how cute these pineapple donuts are! Donuts can easily replace cake at a birthday party. Add the green topper and these donuts are good to go.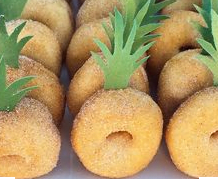 A coconut poke hole cake would make a perfect option for a birthday cake at a Moana inspired birthday party. The whipped frosting and toasted coconut looks tropical and tastes amazing.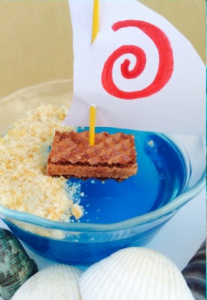 Jello is a favorite of many and it would be hard to go wrong with these cute jello treats. Recreate Moana's trusty boat on top of a blue ocean with blue jello and cookies. The Jersey Mamma has simple instructions to make these fun treats. The boats look just like the one from the movie and taste great too!
Moana Inspired Birthday Party Games
A beach centered party isn't a beach party if you don't do the limbo! Crank up the jams and see who can go the lowest. Find a limbo stick here. Another fun game to play at a Moana inspired birthday party would be coconut bowling!
Take six sturdy water bottles and set them up in a triangle shape. Place one or two drops of blue food coloring in the water bottles to make the water look more like ocean water. Use a coconut as a bowling ball and try to knock as many "pins" down as you can!
 Play pineapple ring toss with your guests. Buy three or four large pineapples and rings then see who can get the most rings on the top of the pineapple. Ring toss can also be played with plastic, pink lawn flamingos.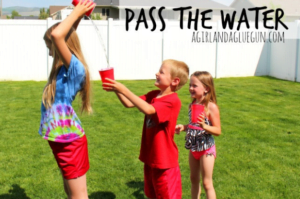 A fun game to play outside is the pass the water from cup to cup. Have guests stand in a line, one behind the other all holding a plastic cup. The first person in line has water in their cup. Then have guests dump the water over their head to the person cup behind them. The team with the most water in their cup at the end, wins!
Have your guests walk across the and try not to fall in! Stretch out a blue plastic table cloth to look like the ocean and lay a wooden board across the "ocean." One of Moana's best friend is her pig Pau. Play Pin the tail on Pau at your Moana inspired birthday party. Musings of an Average Day Mom has the links to the printouts for this activity.
Moana Inspired Birthday Party Crafts
Crafts are great to have at any party because they double as party favors!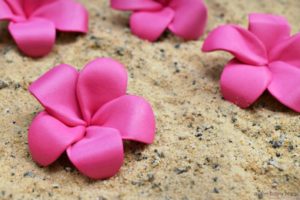 Moana wears the prettiest flowers in her hair. Make each of your guests a flower clip to wear in their hair with craft foam, a hair clip and hot glue. The bigger the petals the bigger the flower will be at the end. 
Everyone loves something shiny especially Tamatoa, the crab from Moana who loves to collect pretty things. Make slimy goo that is so shiny even Tamatoa will want to have some. As the Bunny Hops has step by step directions and great pictures.
Another craft would be to make a necklace that looks just like Moana's from the movie. This craft is a little challenging for small kids because you need to braid the hemp strings to create the necklace. The finish product looks great! 
Moana sails the rough ocean on her boat! Guests can make their own boat model after Moana's with craft sticks and glue. To complete the boat, add a flag like Moana's to the middle with a skewer. For full instructions click here.
And to finalize the party and make it more compelling, engaging and more  Moana-like, you may also check a Custom Body Art Tattoo Kit from Amazon, let the creativeness of your kids be expressed through art.
Moana Inspired Outfits
Have your guests feel like they are on an island by providing grass skirts and floral leis.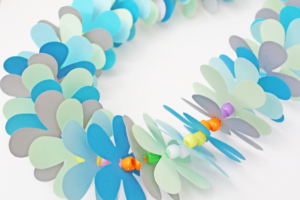 Floral leis can be bought with silk flowers or can be made with paper flowers. Paper flower leis are a great activity for kids. The paper flowers can be cut out before the party and then kids can string the flowers and beads together to create a unique leis that is all their own.

Complete the look by creating flower crowns at your Moana inspired birthday party. Green Wedding Shoes has a great post on how to make a flower crown. Moana's flower grown is made up of lots of greenery and big pink flowers. Silk flowers last longer and are easier to work with. Floral wire and floral tape can be found at your local craft store.
Moana Inspired Birthday Party Favors
Send your guests home with fun party favors and have them always remember your Moana Inspired birthday party. Putting gifts in Moana cups would be a unique spin on party favors. You can find plastic Moana cups here. Place the cups in clear cellophane bags and tie with a ribbon on the top. These bags will help to prevent goodies from spilling out of the cup.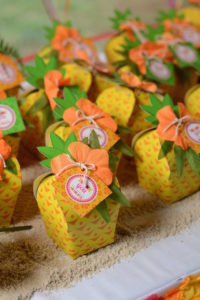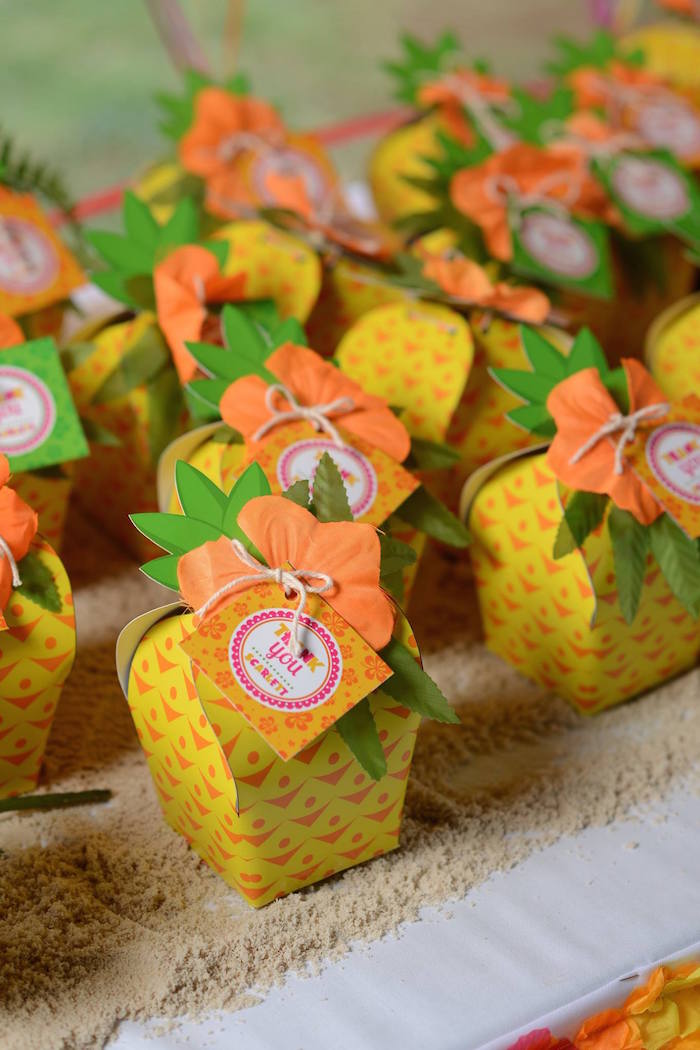 Small gift boxes are also perfect for holding favors.Check out these cute pineapple boxes! Lets Wrap Stuff has great instructions on how to make similar gift boxes. The flower makes the boxes look more tropical. These boxes are great because they are big enough to out a few goodies in but not too big where they are impossible to fill.
Nail polish would be perfect for Moana inspired birthday party favors. Adding bright and summery colors would help to tie together the theme. Hosts could easily match nail polish colors with the parties color scheme.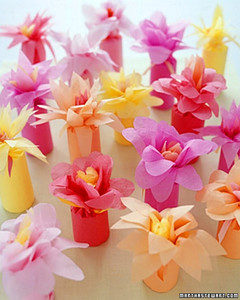 Another cute idea would be to make these cute flower candy holders. These would work great included in the party favors or as stand alone favors. The candy holders are easy to make and require minimal prep work. By using different color tissue paper, these flower candy holders could easily fit into a Moana inspired birthday party.
These are just a few ideas of games, activities and decorations that could be incorporated into a Moana inspired birthday party. This party is fitting for guests of all ages. We would love to see what you do for your own Moana birthday party, drop us a comment or leave a picture on our website!